Stud-Pro Kit:
US $39.95 + Shipping

Specialty boring tool for construction.
The Stud-Pro™ precisely positions a drill bit for boring holes in studs used for construction and framing. Proper positioning of such holes is important for meeting building code requirements. Properly positioned holes ease the installation of cables, conduit and pipes.
Features of the Stud-Pro™
Accurate hole location
Increased productivity
Easy to use
Eliminates measuring
Ideal for unskilled help
Universal, will bore right or left handed
Will bore at a 45° angle for horizontal to vertical runs
Rugged cast aluminum construction
Removable handle for tight spaces
Hardened steel guide bushing for a lifetime of service
Many manufacturers bits can be used with similar shank sizes
Snap a single chalk line and bore an entire wall with Stud Pro™
Stud-Pro™ in use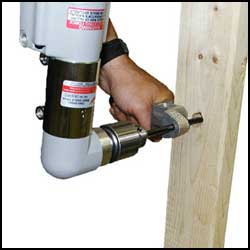 right angle boring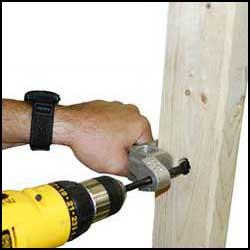 straight boring with drill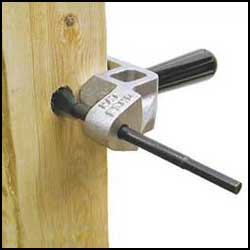 straight boring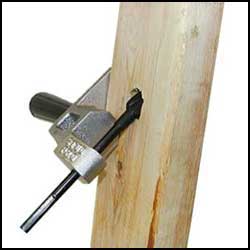 run to rise boring
Take the Guess-work out with Stud-Pro™
Stud-Pro™ helps prevent wires run through wall studs from being penetrated by drywall screws that are harder that the steel nail on guard plates used today to protect wires.
5 Year Limited Warranty Stud-Pro™ Kit complete with
Tool
Handle
One 3/4" Wood Eater® Bit
One 1" Wood Eater® Bit
Handy Carrying Case
Order Stud-Pro™ Today
Stud-Pro Kit: US $39.95 + Shipping
Extra 3/4inch Bit:
US $4.85 + Shipping


Extra 1 inch bit:
US $5.10 + Shipping


For questions about Erie Products call: 419-433-8293
or email:
Erie Products LLC, 202 East Fox Road Sandusky, Ohio 44870
Manufacturer, Distributor, Innovator